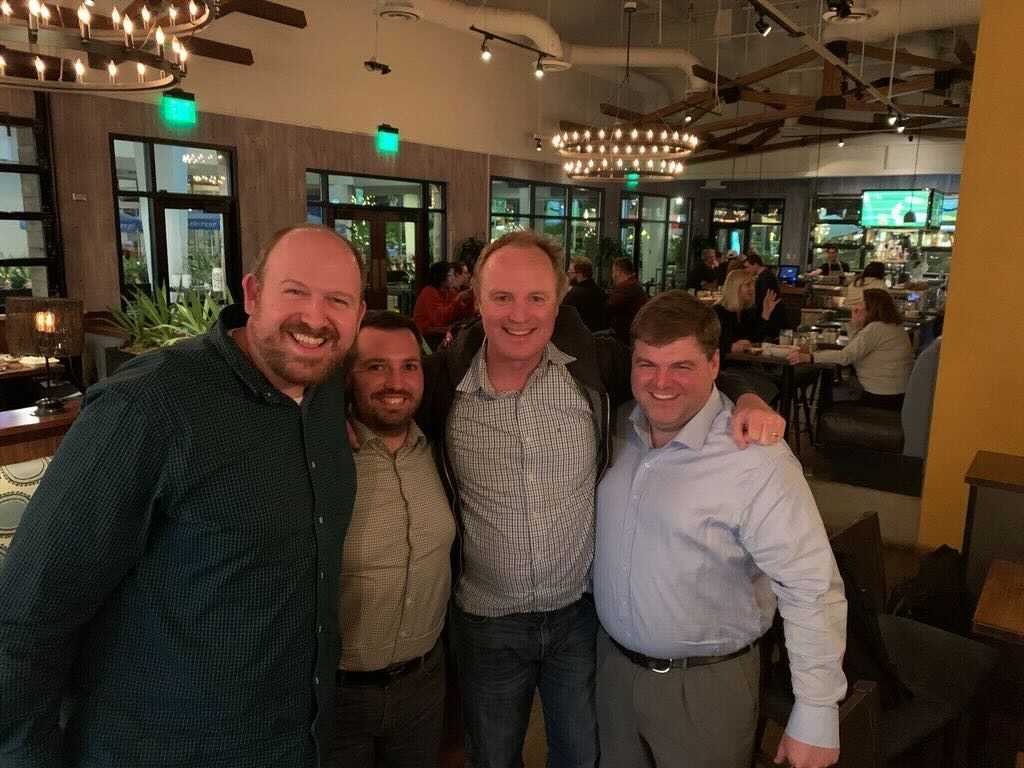 What It Takes To Run A Remote Company
by Ken Carnesi on Nov 2, 2020 12:00:00 AM
Last month, I spoke with YouTeam co-CEO Yura Riphyak about starting DNSFilter. We talked about all of the elements that go into building a remote company: Culture, tools, paying international team members, and a bunch of other things that you only ever encounter once you actually start a business. You can read the full interview here.
Something I've been wanting to do for a while is share more insights into what I've run into in starting a remote company. The positives and the negatives as well as the tools we're using to solve our problems (as much as we can). So think of this as a mini-guide on running a remote company. Obviously, each company is different, but this will really help you out if you're:
Starting a mostly-remote company (like we did)
Hiring internationally
Recruiting technical roles like support and developers
Looking for advice on tools that scale well
Interested in improving company culture (you should be!)
The pros and cons of being remote
Since coronavirus, it seems like everyone has experienced what it's like to be a remote or partially remote employee, so I'll keep this short.
The biggest pro of being remote is that you can find talent anywhere in the world. You're not locked into one region and you never have to settle for someone who's not a culture fit but does the work well, or vice versa. You get to only hire the candidates you really think will work out. It makes you way more competitive.
There's also work-life balance and flexibility, not having to rent a formal office space (instead you can just rent some WeWork-type space for teams that want to be in-person), and better productivity.
Now for the negatives. Team camaraderie is so much harder to cultivate. Everyone's in their own world. Benefits, taxes, and paying employees are all way more difficult as employees are working in different states and even different countries. And finding employees can be more difficult—it's a total catch-22. You theoretically have all of the talent available to you, but it's still hard to pinpoint those perfect candidates from far away.
Hopefully by the time you're done reading, I'll give you some ways to combat all of these negatives.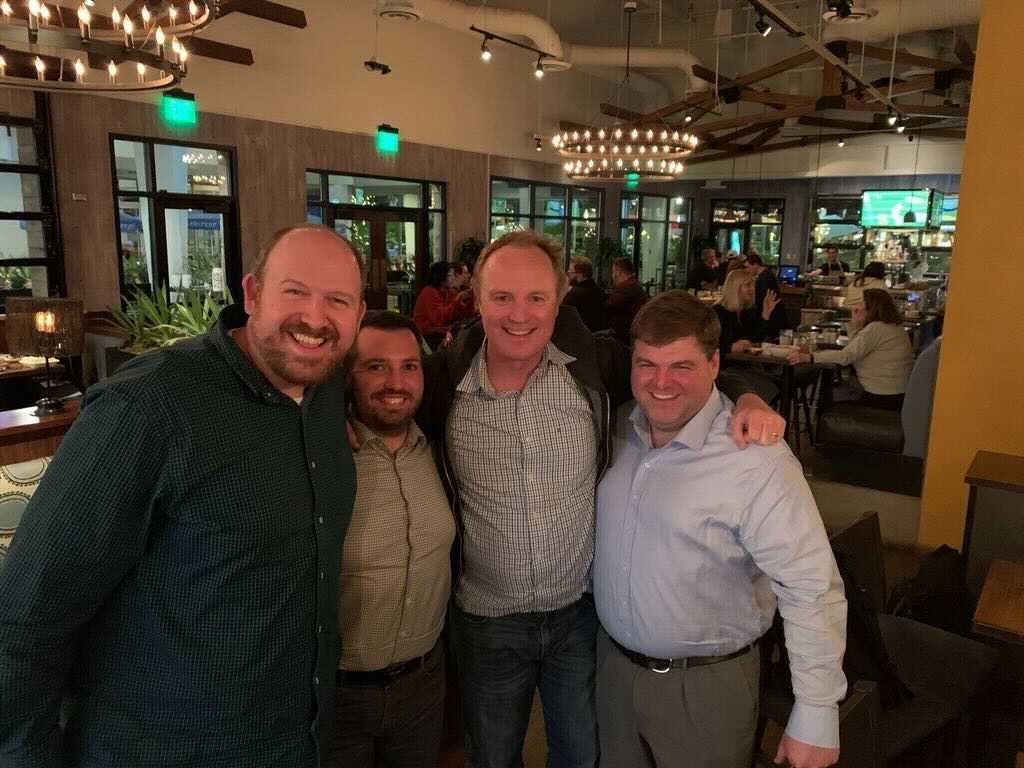 In this picture: CTO Mike Schroll, CEO Ken Carnesi, and Chief Development Officer Brian Gillis with Managing Director Ryan Kuder from TechStars.
Our financial stack
Billing customers
Since starting our business, our pricing model has drastically changed. When we decided to make the switch, we had to find a solution that could work with our new model while still allowing older customers to be grandfathered in to the previous payment structure. What we really needed was the ability to have multiple structures within a single system, and the ability to customize when necessary.
For our subscription billing, we use Chargebee, which uses Stripe behind the scenes as the payment processor. This system allows us to accommodate legacy users as well as customers who want to pay by check, because even though things have moved to digital payments a lot of companies still want to send in checks each month.
For everything on the accounting side, we use Xero, which has great integrations with just about anything you need on the revenue or team side of the business.
Paying our people
For our US employees, we have Justworks. Everyone gets paid through Justworks. They can submit time off, renew and view their benefits (which are amazing), see paystubs, and upload onboarding documentation. Previous to Justworks, we had used Gusto. Why the switch? Well, Justworks is a PEO – you can Google the specifics on what that is. However, for us it ultimately meant that as we hired people in different states, the paperwork was taken care of for us. With Gusto, each time we hired even one person in one state, we needed to create employment and unemployment accounts with that state. This was super time consuming and was a ton of paperwork to maintain, especially when, at one point, we had 12 people employed across 9 states.
For HR and time off purposes, our international employees are also in Justworks. However, the way they get paid and the way we issue benefits is a little trickier. We use services like Veem and Transferwise to pay our employees, depending on what country they're in. Then for any expenses that crop up, we use Expensify. This is really useful because a lot of times after our employees receive packages that go through customs, there are sometimes fees they have to pay out of pocket, and of course we want to reimburse them.
Finally, we just started using PEX to help assist with international employees healthcare benefits. It's a prepaid card they can use for things like prescriptions and co-pays.
We've made it work so far, but you really need to do your research when figuring out payroll as an international, remote company. Right now, we're looking for payroll and HR options for international employees that are more complete than what we have now. At the time, Justworks was the best option, but it's not scalable as our international team has grown to over 10 people.
We haven't figured out what the perfect answer is yet, but I can make an update here once we find something we're happy with.
Ideally, we'd be able to offer identical benefits to US and international employees using the same processes, but right now that solution doesn't seem to exist.
Team building
Hiring
Past experience working for a technology company like ours doesn't always matter. What does matter is that people can learn and adapt quickly. It also matters that they're excited to work at DNSFilter. We don't want anyone to drag themselves to get to work every morning. Some days are going to be harder work than others, but if you don't have enthusiasm for the role or the company from the beginning, it's likely not going to work out.
We employ a lot of technical people at DNSFilter. Finding people with the unique skill set we need has been a challenge. We've learned just throwing job postings on Indeed doesn't work for the technical community. We look on Reddit, Slack forums, Industry forums and even Twitter sometimes to find talent.
To hire support, we've gone to r/MSPJobs in the past to see if anyone with previous MSP experience is looking for a new role. Since a lot of our customers are MSPs, it's generally a good fit.
In a lot of ways, it's actually harder for us to find the few in-person roles we need for the company. Our entire sales team is based in Denver because we strongly believe (and have experienced first-hand the need) that sales should be working out of an office. It helps cement that camaraderie and allows them to celebrate big wins together.
So far, using an outsourced recruiter hasn't worked too well for us, but again as we grow it's something we'll be experimenting with more and more, perhaps hiring an internal recruiter familiar with our needs and culture.
Slack
We use Slack way more than email. The only time we really email one another is to forward on something from outside the company. And even with some of our external partners and vendor friends, we've set up integrated Slack channels so we can chat whenever we need to.
We've set up our channels so that each of our three main departments (Sales/Marketing, Development, and Infrastructure) have their own space to talk and work through problems. We've even created project-based groups for certain features we're working on or large-scale internal data projects.
But more than just communication within and across teams, we've also set up some fun watercooler-type channels to help us all get to know each other better. We have a pretty active TV and movies channel, one for car lovers, a gamers channel—actually while I'm sitting here writing this, our support team took it upon themselves to start a gardening channel as apparently that's something a lot of them are into (I won't be joining that one).
With everyone remote, this type of interaction is really important to get to know people. It allows new employees to jump in and talk to people immediately and not feel out of the loop. Imagine if we only ever talked in meetings? It would be so much harder to get to know someone. And it's so much nicer to work with people you can joke around and share a beer with—like we do on our zoom happy hours.
Wiki
To further our emphasis on communication and empowerment, one big addition we made in 2020 was a company wiki. As our team grew, it became very clear that much of the knowledge about how to perform certain tasks, company processes, and even company policies was quite siloed. It was very easy to figure out with only 5-10 people—not so much when we got to 35.
We decided to use Slab and adoption has been fantastic. At this point, we have probably hundreds of articles supplied across each team. Need to know our time off policy? Check slab. How about how to extend a user trial? Also slab. It's become a great source of knowledge and I absolutely recommend you get started early with this one.
As a side note, adding our company reference guide (an abbreviated version of a handbook) to slab has been awesome for company culture. It truly adds to the transparency and allows it to be a living document that grows with us over time.
Meetups
When you have employees all over the world, having regular in-person meetups really help everyone get to know each other. Obviously, meetups are currently on hold because of COVID-19, but we have a definite strategy when it comes to picking where to go.
First, make it somewhere fun. One of our early meetups wasn't far from where a few of us were living and we rented out the back of a donut shop called "Peace, Love, and Little Donuts". We set it up so employees could help themselves all week. But after that, we wanted to choose more interesting and motivating locations.
With international employees, we need to be aware of visas. So we're generally looking at countries outside of the US, and we try to make it a treat for everyone.
We budget roughly $500 every month per employee to help fund these trips. This way we can cover travel and hotel costs, and we get to pick somewhere scenic and interesting.
While we're having fun, we're also getting things done that week. At our last meetup in Colombia we rented some office space. It was a cool experience to suddenly work side-by-side with people you're usually only talking with on Slack.
Transparency
We strive to be as forthright as we can with the whole company, sharing details with everyone that normally only the executives would know. For example, we do a recap of each board meeting to everyone, sharing how the company is growing and the challenges we've faced. It's an event we always get positive comments about, and rallies the company.
I've learned that when companies struggle with things but don't address it directly, employees can feel beaten down or resentful. Being remote and being a startup means that it's crucial we "overcommunicate" and own up to our mistakes. Since culture is caught more than taught, our executives publicly share with the company when we didn't meet a deadline or failed to deliver on a promise. This helps everyone to feel ok sharing their own mistakes and failures. But on the flip side, we also make sure to celebrate successes. When we hit a major milestone, we want to reward everyone since it's their hard work that helped make it happen.
It's not just about owning up to the negatives that happen, it's making sure to give credit to people when they put in extra effort or get great results.
Regular 1:1s and team calls
You don't have calls without an agenda. Period.
It doesn't necessarily even have to be something formal, but we don't want anyone to ever get on a call and have to ask "So why are we here again?" That's just wasted time, and it's not really good for morale.
We have regular 1:1s where employees can catch up with their managers and focus on how things are going. We want to know if someone feels overwhelmed with work or if they want more responsibility.
We also have weekly team calls to sort through problems and each team has their own structure for those meetings. We don't enforce a set structure because Development and Sales communicate very differently. These weekly touchpoints are really important. It's an opportunity to bring up any issues people are facing, learn about projects everyone is working on, and of course do a little catching up.
As we've grown, we've gone from having an all-hands meeting weekly to once every month, each one with a different agenda. This is something new that we've just moved to as taking an hour away from over thirty employees every week really impacts productivity. And since everyone meets weekly with their teams and direct managers, it's become less necessary to get into the fine details every week. Now we're focused on big-picture updates once a month. The lesson here is don't be afraid to switch up how you do things. As your company changes, your rhythms for meetings and communication should change with it.
Picking the right tools
Project management
Working out of GitHub and Slack is not an actual solution for project management.
Early on we were using Trello, which is a good enough tool for small teams but it doesn't scale well at all. As we got bigger and projects became more complex, we needed something that could support us.
We found Monday in 2019 and it's worked well so far, especially since they've added a lot of new features and they seem to really listen to customer feedback. They have a lot of automations and integrations that at this point are really integral to our teams. For instance, in our product channel, we get an alert whenever there's an update to a project on the board so we basically have a feed in Slack of updates to different features and project statuses.
These need to occasionally be supplemented with task-specific tools, however. For example, sales works out of Salesforce and the development team works out of Zenhub. Unlike other teams, their work isn't really project-based. And while the tools are important, the flexibility to say "This tool doesn't work for this team" is also vital. We don't want to push tools on people when it's not going to work for them.
Security/Password Management
Don't send passwords in slack and over email! We use Lastpass as our password management and sharing program—it allows for several levels of access, which plays wonderfully with a growing team. We also enforce two factor authentication wherever possible, and highly recommend using Authy for your employees' authenticator.
Early Zoom adopters
We started using Zoom long before the 2020 Zoom boom. In 2019 we decided it was simply more reliable than Google Meet. It provided more collaboration, handled more users on a call at once, and the dedicated apps were much better than trying to always make things work through the browser.
Now our sales team uses Zoom even for our phone system instead of a traditional phone system, which makes so much sense for us since our sales team is currently remote. I don't think a lot of other companies are doing that yet.
The biggest takeaway I can share with other startup founders is that you need to do your research on every tool in every aspect of the business. You need to be flexible and willing to change things if they're not working. Businesses need to evolve, and to make that happen your tool stack and processes are going to change. The worst thing you can do is fight that change because you don't want to do it. Actually listen to your employees (and your customers) and be willing to make whatever adjustments are going to make your business better.
Check out our careers page to see if DNSFilter is hiring!
‍

The Differences Between DNS Security and Protective DNS
When researchers talk about DNS security, they often refer to anything that protects DNS infrastructure. Although protective DNS and DNS security fall under the cybersecurity umbrella, protective DNS takes a different approach to cybersecurity than standard DNS security. Both security strategies are important for the stability of your business, but protective DNS reduces risks from your weakest link–human error. Protective DNS is critical for you...

Cisco Umbrella RC End-of-Life: What You Need to Know
The impending Cisco Umbrella RC End-of-Life has many Umbrella users concerned about their next steps and questioning which protective DNS solution might be able to fill the gap for their organization.

Cybersecurity Briefing | A Recap of Cybersecurity News in October 2023
Industry State of the Art
This month there was a high level of focus on compliance issues spanning several focus areas from governments and oversight agencies around the world. And while there were actions taken with regard to specific vulnerabilities, a larger spotlight was placed on bigger picture security considerations in a more general context.
Explore More Content
Ready to brush up on something new? We've got even more for you to discover.