WHAT DO YOU NEED IN A CONTENT FILTER?
You need a solution that's built with the future in mind. With DNSFilter, you gain a solution that:
• Is simple to navigate
• Generates beautiful reports
• Adds new features regularly
• Gives you the integrations you need
USER INTERFACE MATTERS
Some applications just aren't fun to work in. We may be biased, but we think DNSFilter's UI is clean, easy to use, and makes more sense than others. If you're looking for an alternative, it's time to take DNSFilter for a spin with a free trial. Not sure you're ready? Here's a side by side comparison of critical features and capabilities.
BUILT FOR SPEED
DNSFilter is built for speed. We are one of the fastest DNS resolvers on the market (check out our stats at DNSperf.com), and we place a lot of value on the ability to give our customers timely insights. We believe you should have access to reporting with minimal lag. Not only is our network fast, but our application is fast, too. If someone asks you about a page that's recently been blocked, you'll be able to see it instead of waiting.
DNSFILTER vs Webtitan
| Features | DNSFilter | Webtitan |
| --- | --- | --- |
| Stable & Global Network | | |
| Mobile Roaming Clients | | |
| LAN Proxy/Virtual Appliance | | |
| One-click Application Blocking | | |
| | | |
| Imagery-Based Anti-Phishing | | |
| Zapier Integration | | |
| Whitelabeled for Resale | | |
| Ability to Vote on New Features | | |
| Azure Active Directory Integration | | |
TRUSTED BY ENTERPRISE, SMBS, AND MSPS
DNSFilter Vs. WebTitan Comparison Report

Check out the comparison report of DNSFilter and WebTitan.
DOWNLOAD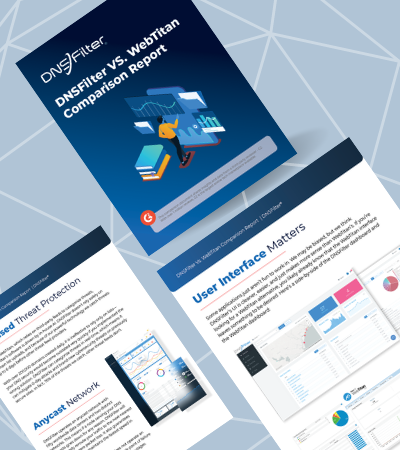 We have over 26 million end users
See what they have to say about DNSFilter
DNS Filtration that just works
Does what the product claims; good value for the price
Its raining malware but I wont reach for my Umbrella, but DNS Filter instead
DNSFilter - A Fast, Easy, And Reliable DNS Filtering Solution
DNSFilter Is A No Brainer. It Cost Less Than Its Competitors And Easy To Setup.
Compliance Level DNS Filtering
Great platform, even greater customer support
Fast to deploy, protect an entire network in a minute
Easy-to-use DNS security solution
Finally, a DNS filter that actually works!