PROTECTIVE DNS FOR YOUR CAMPUS
WE GET HIGHER EDUCATION.
With affordable education-only pricing, quick and easy deployment, and the most advanced and effective features in the industry, DSNFilter is a no-brainer.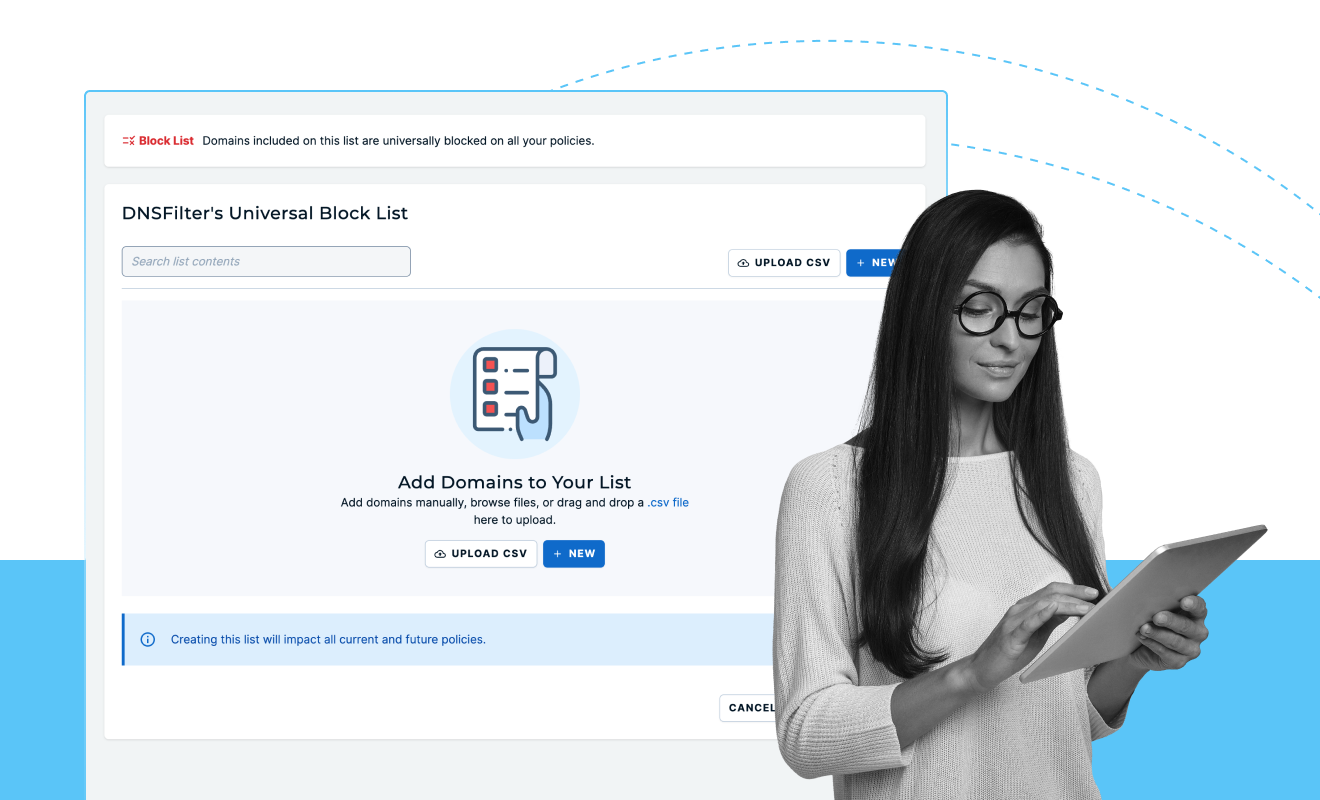 TRUSTED BY UNIVERSITIES ACROSS THE COUNTRY!
Indiana Wesleyan University Case Study

As the university embarked on finding a new filtering technology, existing solutions proved too expensive for a university funded by enrollment. DNSFilter provided an affordable and effective option that met the university's needs.
READ THE CASE STUDY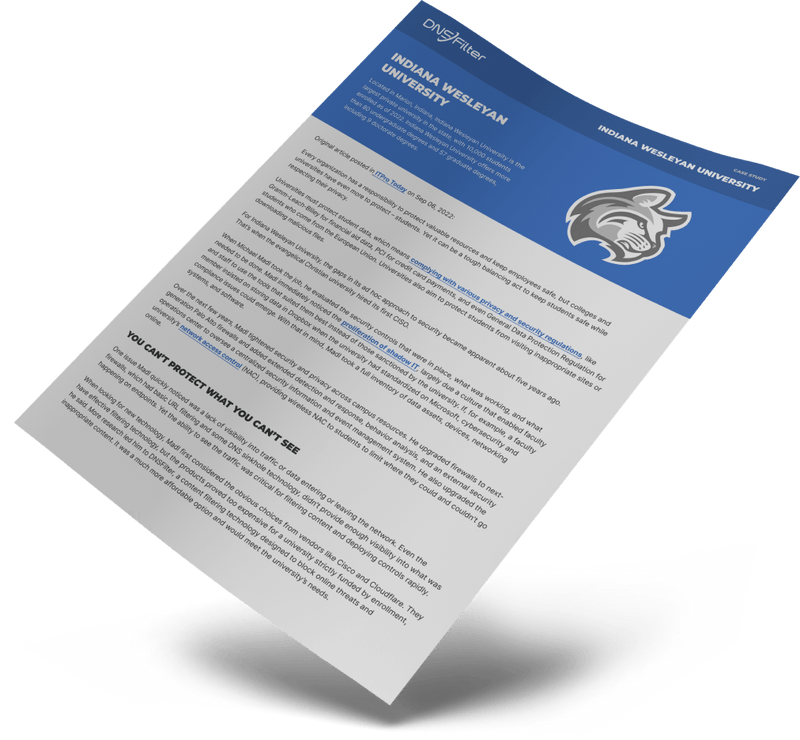 SUPPORTS ALL LEARNING ENVIRONMENTS
If your users require Roaming Clients (off-network protection), DNSFilter provides that. Our easy-to-use client can be installed manually or via MDM. No VPN connection required. This is ideal for school-issued devices that may be taken home. So you're not just providing DNS filtering for schools, but DNS filtering for the student body—wherever they are.
AFFORDABLE FOR EDUCATION
Schools and Universities are notoriously under constant budget limitations – often struggling to keep up with technology changes and advancements. DNSFilter recognizes this and offers several ways to save. DNSFilter can be deployed district-wide in minutes, reducing the strain on the IT staff. And there is no hardware to purchase, maintain or license. DNSFilter offers some of the most affordable education pricing in the industry.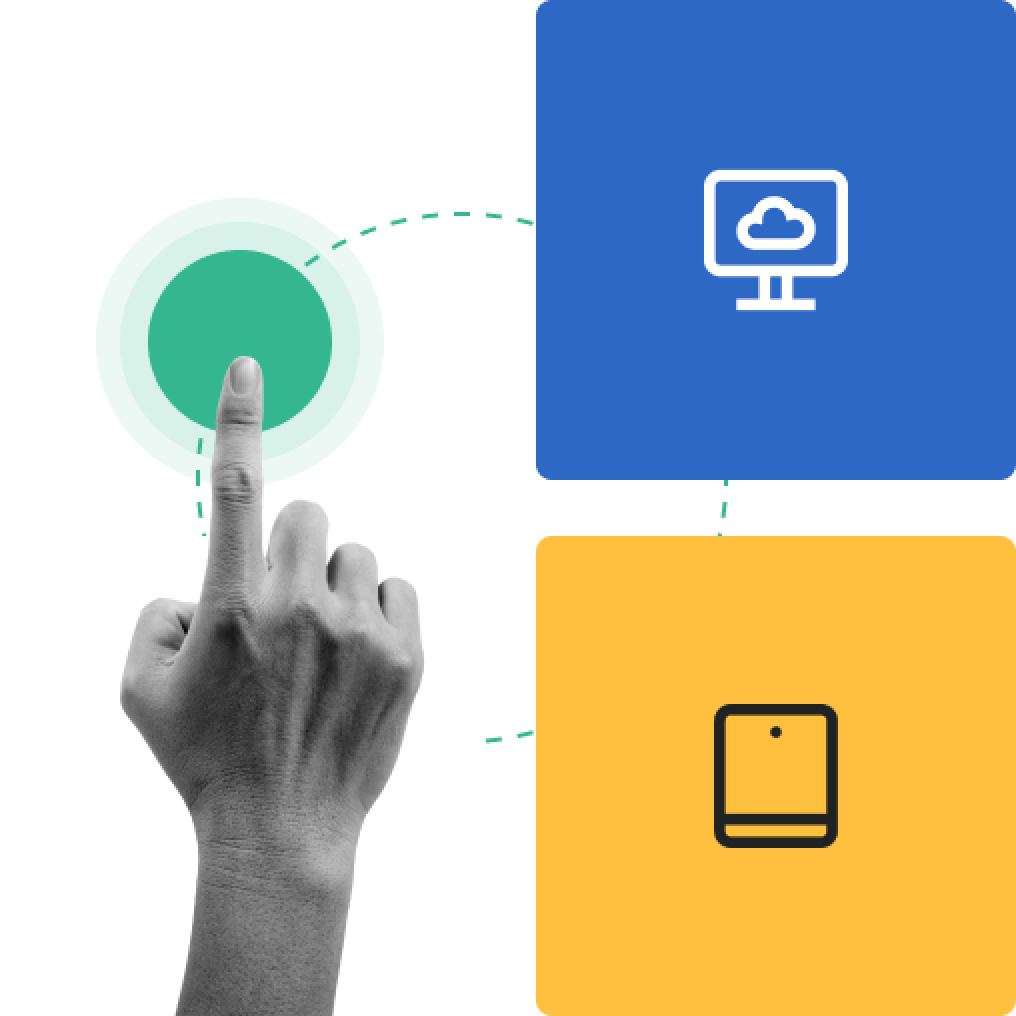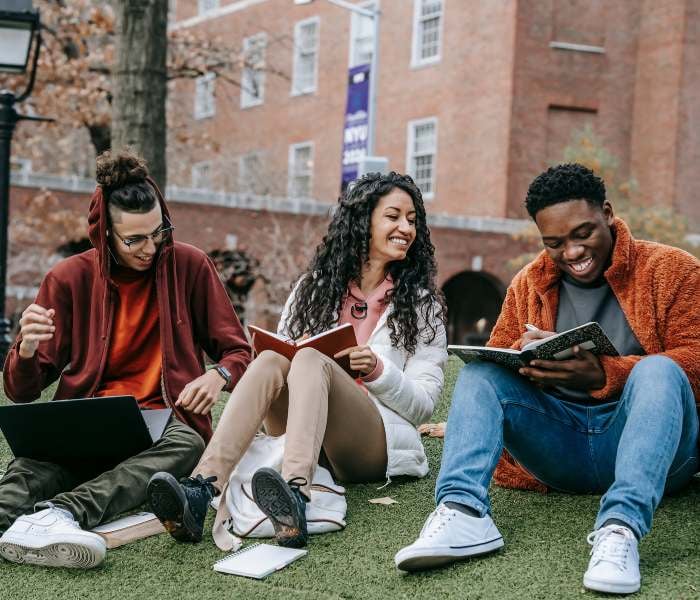 SECURE YOUR CAMPUS IN MINUTES
Traditionally, preventing malware and botnet attacks can be costly and labor intensive—requiring expensive hardware appliances deployed on site. With DNSFilter, this is a thing of the past. By using DNSFilter as your DNS resolver, we enable you to seamlessly add malware/threat detection and prevention capabilities in minutes.
We have over 26 million end users
See what they have to say about DNSFilter
Great Product Overall For A Good Price
Does what the product claims; good value for the price
Its raining malware but I wont reach for my Umbrella, but DNS Filter instead
DNSFilter - A Fast, Easy, And Reliable DNS Filtering Solution
DNSFilter Is A No Brainer. It Cost Less Than Its Competitors And Easy To Setup.
Compliance Level DNS Filtering
Protective DNS resolver checks our domain name query & prevent malicious connections
Fast to deploy, protect an entire network in a minute
Great value add to our security tool set
Finally, a DNS filter that actually works!