5 Things We Learned at HIMSS 2022
by Carmella Arroyo on Mar 23, 2022 12:00:00 AM
Last week our team attended the HIMSS (Healthcare Information and Management Systems Society) 2022 conference in Orlando, FL. This global conference brought together tech firms, internet security providers, and healthcare organizations and retailers to collaborate and share new ideas around the global health ecosystem through health information and technology. The speakers we sought out provided us with key insights on healthcare, security, and education. We were also finally able to connect with many of you- in person! Here are 5 things we learned and what grabbed our attention last week.
1. VSee is Providing Free Telehealth Services for the People in Ukraine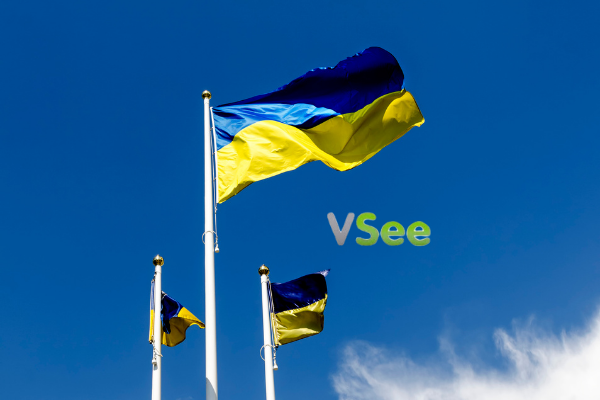 VSee provides the software that many telehealth service providers use and they also have a wide network of physicians that can provide these telemedicine services. VSee has started a free service to the people of Ukraine who are in need during this drastic time of the war between them and Russia. VSee is able to provide the help that Ukraine needs by communicating with Ukraine's Ministry of Health and hospitals around the country. They divide their services into 3 different sectors: battlefield trauma, specialist care support, and private-direct needs for the people of Ukraine.
At DNSFilter, we strongly believe in taking a stand in supporting Ukraine with VSee. We started the Ukraine Strong Tech Coalition which has brought in more than $146,000 in donations as of writing this article. This coalition was built to drive donations and highlight tech companies offering their services for free for the people of Ukraine. DNSFilter is also matching cash donations to a list of approved organizations.
2. How Virtual Reality is Being Used for Clinical Care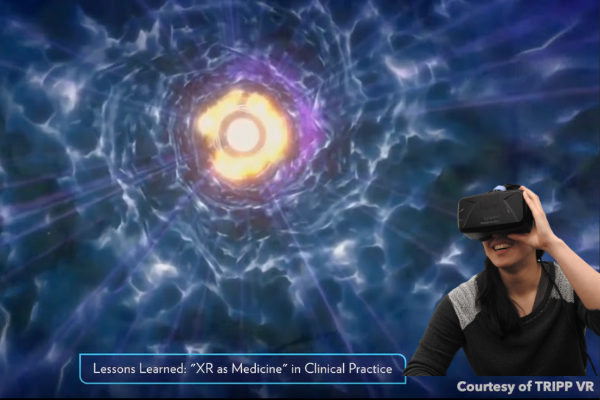 We all know VR (virtual reality) is usually used for an immersive gaming experience, but have you ever heard of it to control pain, decrease anxiety, and even reduce stress? We learned from CEO of NEO.LIFE Jane Metcalf's Keynote on "7 Trends to Watch from the "Fringes of Medicine" that medical therapies using light, sound, and electrical impulses will be making headlines for the upcoming years of digital health. She says that these trends will "provide non-invasive, non-chemical interventions in brain disease."
In a session about "XR as Medicine for Clinical Practice", TRIPP VR offers technology using the Oculus and VR for mental health wellness and uses measured sound frequencies, interactions and visuals for their patients, which has also been named as "cyberdelics"—a play on the word psychedelics. This technology has been researched to disrupt negative thinking in patients and immerse them in a new virtual world to create more positive thinking.
3. Disney Embracing Curiosity Brought Great Success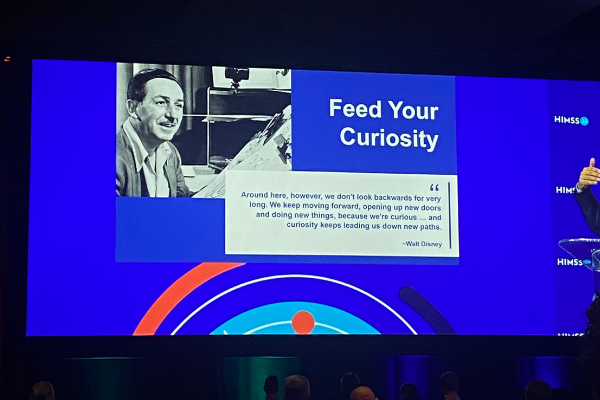 Being right down the road from The Walt Disney World Resort, a conference is not complete without a keynote of the success of Walt Disney. Ben Sherwood Co-Chair of Disney Media Networks gave the history of how Walt Disney took a flight over Florida in 1963 and all he saw was the swampy lands that it used to be. Sherwood provided insight on how Disney dared greatly on this land, embraced his curiosity, and how believing in your own magic is what brought the success of the Disney World Resort in Orlando, FL what it is today. Sherwood covered many ideas that Disney had for this land. Even if they all didn't work, he says "More ideas always mean better ideas." From swamp lands, to a business that brings in over $60 billion dollars in revenue a year, Disney used every idea he had to bring great success.
4. Diverse Teams with Different Perspectives and Backgrounds is the Key to Success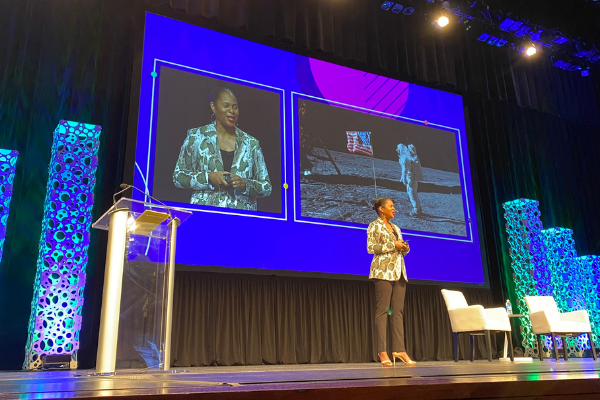 Joan Higginbotham is the 3rd African American Woman to travel to space, has more than 20 years of experience working for NASA, and is known for breaking barriers in diversity. In her sessions titled, "Diversity, Equity and Inclusion from an Astronaut's Perspective", Higginbotham gives her story of her space mission STS-116 where she learned the importance of diversity and inclusion in her workplace. Her space mission was full of team members from different backgrounds and parts of the world.
During a Q&A in her session, she was asked what diversity can bring to your organization and said, "You have people who will view it from a way different lens than you will and that brings creativity, opportunity and better solutions."
5. Even The Greatest Athletes of All Time Can Struggle with Mental Health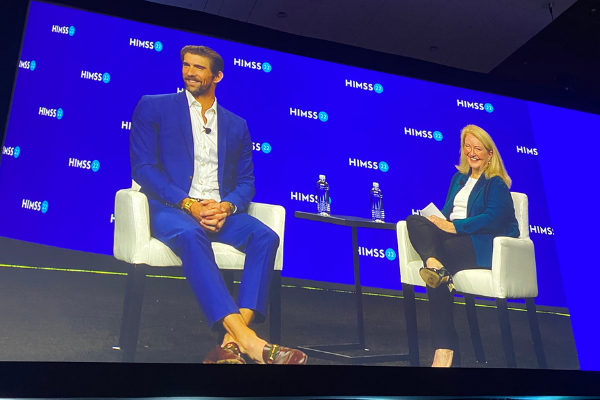 To close out HIMSS 2022, Gold Medalist (28 of them by the way, but who's counting) Michael Phelps shared the mental challenges he faced during his life as an Olympian. Phelps explained how the pressure of being a "perfect athlete" gave him severe anxiety and depression but with his busy schedule, was never able to take care of his mental health and how damaging it was to him in his younger years. Phelps didn't begin his mental health journey until after he retired (the 2nd time) and that's where he began to seek the help he needed.
Today, Phelps is a mental health advocate and speaks on advancing mental health initiatives to transform one's being. Phelps also began the Michael Phelps Foundation in efforts to promote physical and mental health, swimming and water safety, and the pursuit of dreams.
Mental health and work-life-balance are going to continue to be large topics across organizations, not just healthcare, into the future. Adopting remote work and 4-day work weeks are just a few ways employers can help mitigate employee burnout.
Bonus Cybersecurity Tip:
The healthcare space is one of the most popular targets for cyber attacks. With all the important information and technology that lives are depending on, hackers are looking for any small spaces they can slip into to infiltrate your organization's essential data. This is why it is critical that your security is up to date and you are using the best tools out there. This is where DNSFilter can help you.
We had a great time at HIMSS 2022 this year and can't wait to see you again in Chicago for HIMSS 2023!
If you didn't get a chance to stop by our booth and learn more about DNS security, you can book a demo with us today and someone from our sales team will be in touch with you. We also give free trials of our product- get yours setup today!

Cisco Umbrella RC End-of-Life: What You Need to Know
The impending Cisco Umbrella RC End-of-Life has many Umbrella users concerned about their next steps and questioning which protective DNS solution might be able to fill the gap for their organization.

Cybersecurity Briefing | A Recap of Cybersecurity News in October 2023
Industry State of the Art
This month there was a high level of focus on compliance issues spanning several focus areas from governments and oversight agencies around the world. And while there were actions taken with regard to specific vulnerabilities, a larger spotlight was placed on bigger picture security considerations in a more general context.

DNS Protection's Role in Security Service Edge (SSE) and Secure Access Service Edge (SASE)
TL;DR: SASE is broadening—it is about more than just access! It is about endpoint protection and user-based access…and it's called Security Service Edge (SSE). All of the aspects of the joint NSA and CISA guidance on Protective DNS (PDNS) and user-level policies are part of the secure category, originally launched by Gartner in January 2022. Regardless, it's been interesting to see the NSA and CISA create guidance recognizing the breadth of cyber...
Explore More Content
Ready to brush up on something new? We've got even more for you to discover.