DNSFILTER PARTNERS
WITH
N-ABLE (FORMERLY SOLARWINDS MSP)
The ability to identify and block threats on corporate networks has grown in importance over the last year at an accelerated pace. With more organizations moving to a work-from-home model, MSPs are suddenly responsible for meeting the security demands that come with a distributed work environment. Their customers are at a greater risk, and the number of daily threats—a risk in every click—isn't slowing down.

This is part of why DNSFilter and N-able are partnering to provide MSPs with DNS protection within the N-central dashboard.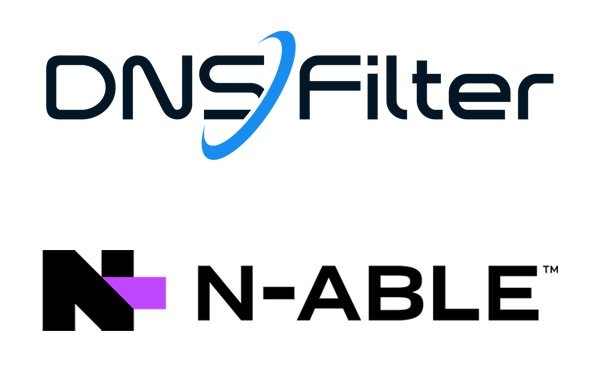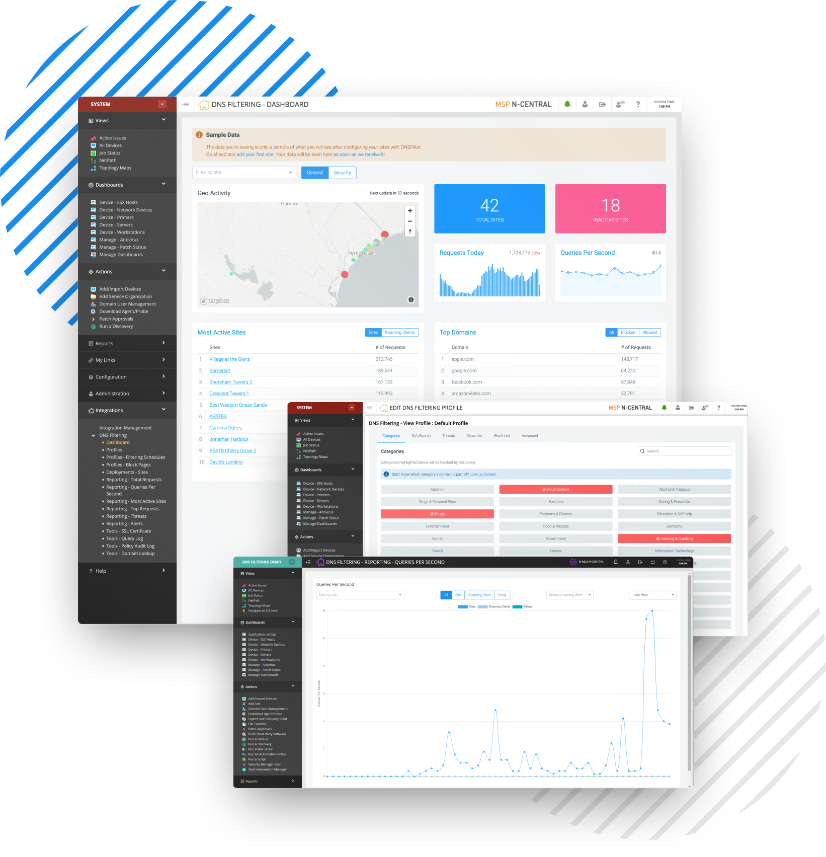 AN INTEGRATED PRODUCT SUITE
DNSFilter is now integrated with N-able, so their customers can start to take advantage of DNS threat protection while connecting MSPs with their entire tool stack. We're excited that this partnership will give N-able customers the option to add a new, vital layer to their security infrastructure with ease.
"Adding an additional layer of protection through DNS filtering can mean the difference between a data breach that takes your systems offline and everyone in the office getting to go about their normal day," said Ken Carnesi, CEO, DNSFilter. "We have partnered with N-able as we both believe in the importance of having a layered security platform in place, and with the rise in targeted attacks by adversaries, we know that DNSFilter adds a vital layer of protection for MSPs to help block these attacks."


MSPs need to ensure they have a reliable web filtering solution
MSPs need to ensure they have a reliable web filtering solution, whether users are on or outside of the corporate network; the importance of this has soared rapidly with the rise in remote working and for a lot of organizations, these working conditions are here to stay. ...the ability to classify and filter sites in real-time is a must.
John Pagliuca
President, N-able


We need a service to help protect access to risky sites and DNS calls
When computers are outside the borders of our networks, we need a service to help protect access to risky sites and DNS calls. The DNS protection agent protects our endpoints from those malicious DNS calls no matter the location or connection. The partnership between N-able and DNSFilter is an exciting step to securing devices everywhere.
Jerel Howland
CTO, Mytech Partners
WE HAVE QUICKLY GROWN TO BE THE LEADER IN DNS SECURITY
Faster Response Time
We operate the largest amount of datacenter locations so you get a lightning fast connection, no matter where you are. Need proof? We publish our network stats in real-time at DNSperf.com
Faster Response Time
Ready To Sell
We provide a multi-tenant dashboard and full-service whitelabeling—something Cisco Umbrella can't offer. We also share whitelabeled materials for our MSP partners to help them succeed.
Ready To Sell
Stellar Support
DNSFilter places a lot of focus on providing you with support that is friendly, knowledgeable, and accessible. Our onboarding experience can get you started filtering in just under 5 minutes
Stellar Support
On Going Optimization
When's the last time Cisco Security Manager added a major feature? From improving UI and reporting to adding features our customers need, we haven't stopped iterating on a product our users love.
On Going Optimization