DNSFILTER VS ZORUS ARCHON
A ZORUS ARCHON ALTERNATIVE
Zorus Archon (or Zorus Filtering) is an endpoint-focused filtering solution that services MSPs. They're a younger organization still building out a more complete feature set and haven't yet reached full feature parity with the market. DNSFilter is a more mature secure web gateway (SWG) solution that leverages ML for the most effective threat detection available.
Get the G2 Comparison Report
DNSFILTER vs Zorus Archon
| Features | DNSFilter | Zorus |
| --- | --- | --- |
| Built-In, Global Anycast Network | | |
| Static, List-based Domain Categorization | | |
| ML-Driven Domain Categorization | | |
| Roaming Clients | Desktop & Mobile | Desktop |
| One-Click Application Blocking | | |
| SIEM/SOAR Integration | | |
| URL Filtering | Coming 2024 | |
| Whitelabeled for Resale | | |
| Multi-tenancy | | |
ALL ROADS RUN THROUGH DNS
At DNSFilter we aim to do more than DNS filtering, but DNS is still the backbone of everything we do. Zorus filters DNS with their "ZNS" network deployment but lacks content filtering at the network level.
With DNSFilter, you get the same filtering capabilities no matter how you decide to deploy our product. That means every end user has the same experience, no matter how their device is connected to our Secure Web Gateway (SWG).
Zorus actually recommends against deploying their network filtering solution if you're going to use their endpoint agent, while we encourage you to layer deployment methods. This will give your end users the best coverage possible, allowing protection to follow them wherever they go. Our system uses precedence to determine which method will do the filtering, so you'll never run into an issue where a single domain is filtered twice.
Deploy however many times you like, but filter once.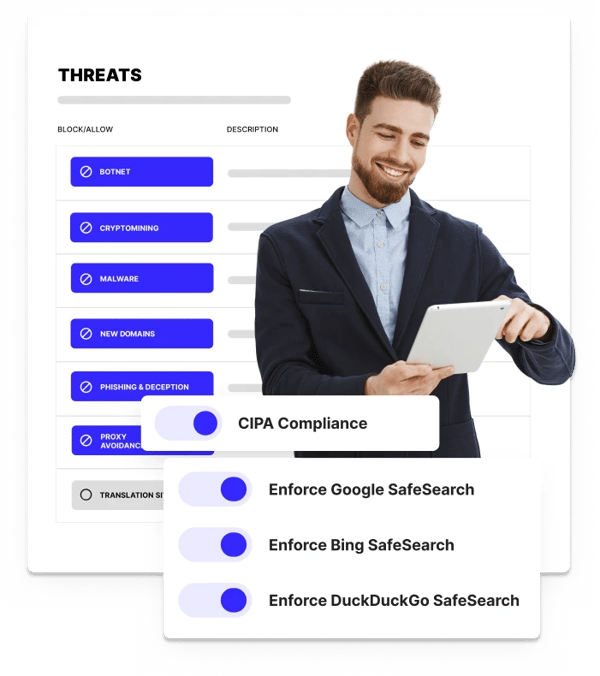 FREE NFR LICENSES FOR OUR PARTNERS
When you join the DNSFilter partner program, you're eligible for free NFR licenses so you can test DNSFilter internally and demo to your customers and prospects with ease.
DATA EXPORT FOR YOUR SIEM
With DNSFilter's data export feature, you have the ability to export your DNS traffic data from DNSFilter to the SIEM or SOAR of your choice, like Splunk, Devo, Amazon S3, DataDog, and so many more.
With Zorus, you're either locked in the dashboard or exporting CSVs just to upload them somewhere else. That creates additional manual work for administrators who need to see that passive DNS traffic in near-real-time in order to make decisions and monitor end user behavior.
Beyond our Data Export feature, DNSFilter also provides API access so you can connect your passive DNS data to whatever endpoints necessary. While Zorus has a number of deployment integrations, they're lacking an API key that will send data wherever you need it.
ENABLE SIGN-ON
DNSFilter offers Single Sign-On for greater security, allowing IT administrators to control who has access to which applications in their tech stack from a single location. Single Sign-On allows you to control who has access to the DNSFilter application using any Identity Provider (IdP) that supports Generic OpenID (OIDC) protocol, such as Okta and Microsoft Azure Active Directory—something Zorus is currently lacking.
P‍UBLIC AND TRANSPARENT ROADMAP
We rely heavily on the voices of our customers and prospects, which is why DNSFilter provides a public roadmap where customers can request and upvote new feature ideas. Our goal is to be transparent in what we're working on in the product, but also provide a place where our customers have a direct channel to our product team to tell them what would make their lives easier. Visibility is important to us, which is why everyone can view our roadmap and monitor changes in real-time.
TRUSTED BY ENTERPRISE, SMBS, AND MSPS
Arclight Case Study

Keys to success: DNSFilter's Roaming Clients and easy implementation.
READ THE CASE STUDY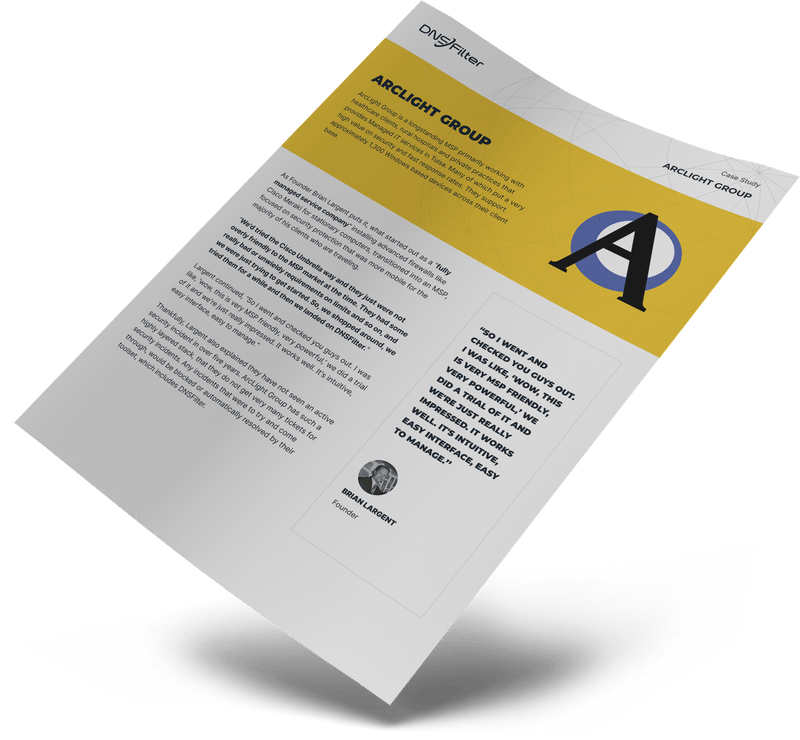 We have over 26 million end users
See what they have to say about DNSFilter
DNS Filtration that just works
Does what the product claims; good value for the price
Its raining malware but I wont reach for my Umbrella, but DNS Filter instead
DNSFilter - A Fast, Easy, And Reliable DNS Filtering Solution
DNSFilter Is A No Brainer. It Cost Less Than Its Competitors And Easy To Setup.
Compliance Level DNS Filtering
Great platform, even greater customer support
Fast to deploy, protect an entire network in a minute
Easy-to-use DNS security solution
Finally, a DNS filter that actually works!