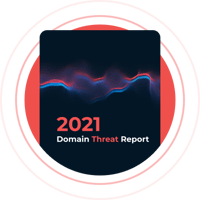 DNSFILTER DOMAIN THREAT
REPORT 2021
Nation-state attacks. Cryptocurrency. The pandemic. These are just a few of the trends that defined cybersecurity over the last year. We've compiled research based on these trends in our annual Domain Threat Report.
Our findings include:
‍

Which Country-code Top-Level Domains serve the most threats

How crypto and NFT trends have shifted the threat landscape

Why new domains pose such a great risk to security
GET THE DOMAIN THREAT REPORT
Why Customers Love DNSFilter
We're extremely customer focused because we want to do right by our customers. At DNSFilter, we pride ourselves on being easy to work with. We invest heavily in creating extensive documentation for our knowledge base and backing it up with responsive email support.
‍
Our range of badges from G2, Capterra, Gartner, and other review sites put a spotlight on why so many organizations trust DNSFilter for their DNS security protection.